A Three Week Old Litter of Our Rat Terrier Puppies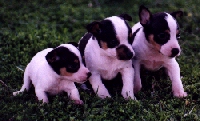 A & B Kennel
Rat Terrier
Information
Breeding Quality Rat Terriers
Specializing In
Toy and Standard Sizes
Chocolate and Black/White/Tan Trio Colors
Shipping Available
Originating in England, this breed traces its roots to an offshoot of the Standard Fox Terrier. They were bred from dogs known for their proficiency in hunting. The resulting breed was known as a Feist, and was renowned for their lethality as hunters of rats and mice. A popular sport in England was to place a Feist in a pit and pour hundreds of rats in on top of him. Wagers were placed on the number of rats he could kill.
Feists came to America, and gained their first noteriety in America when President Theodore Roosevelt brought several of the dogs from his home in New York in 1901 to clean out the White House, which was rat infested. The breed underwent change in America by the addition of blood from the Smooth Fox Terrier producing the characteristic tri-coloration scheme of most of today's Rat Terriers. Perhaps the most famous Rat Terrier in history was Nipper, the well-known "RCA Dog"
During the 1950's, there was a severe decline in this wonderful breed of dogs, until only a handful of breeders remained. With the acceptance of the breed by the UKC and AKC beginning in the 1950's, and the establishment of such organizations as the National Rat Terrier Association, the breed quickly rebounded, and is immensely popular today.
We first began raising pedigreed dogs after acquiring our first Rat Terrier, Butch, in 1994. We have enjoyed these wonderful dogs ever since. They are affectionate, active, smart and they love to cuddle and be loved. They fit into any kind of family and love kids. They are also very protective of their human family.
We have several stud dogs and many female breeders. There are some toys that weigh 10 pounds, but most are standard size which weight from 14 to 20 pounds. They vary from 12" to 16" tall. We strive for the erect ears, but have a lot of the dropped ears as well. The colors the dogs produce are the black/white/tan tri's with the blaze faces. We do have a few pups born with the solid white bodies with the tri-color faces. Our females average 6-8 pups per litter.
Our puppies are hand-raised and are whelped in our outside kennel in igloo doghouses, an arrangement that we have had very good luck with. We dock tails and remove dewclaws, as well as maintain a complete vaccination and worming regimen.
---